Egyptian potatoes imported
Egyptian Potatoes
By GEO`s team/ fresh, fresh vegetables, vegetables/exporter, fresh potatoes Egypt, Export potatoes to Russia, potato exporter, potatoes production in Egypt, import potatoes to Europe
Why import Egyptian Potatoes?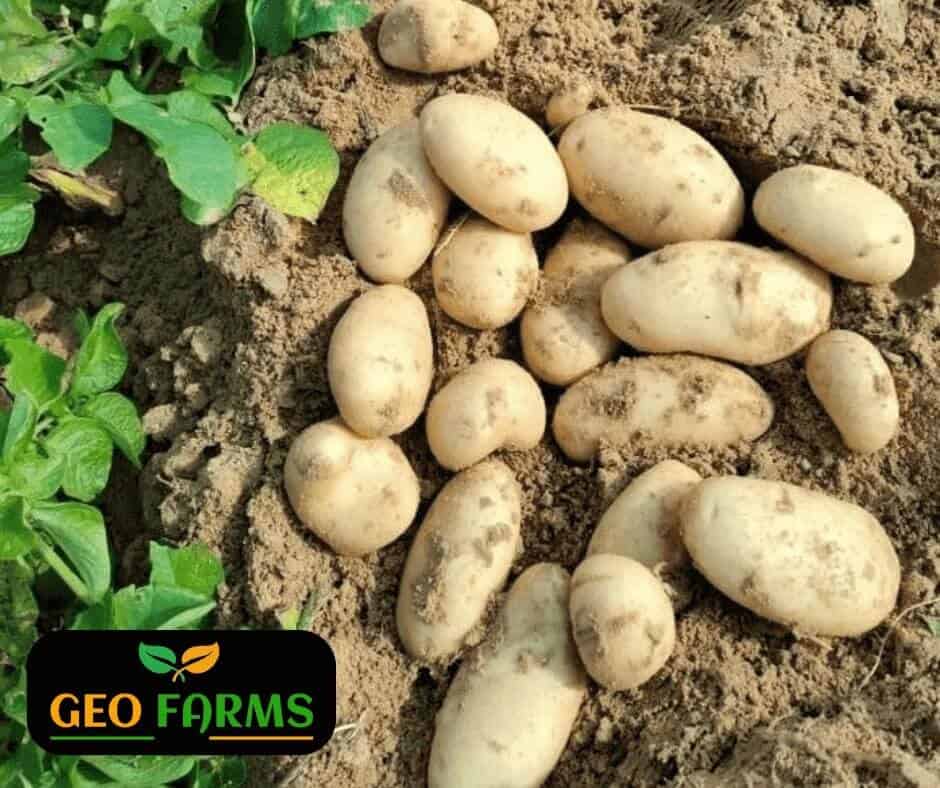 Always complies with European requirements.
We export Egyptian Potatoes from our farms and from some suppliers and always make sure that our products are of the highest quality in order to maintain our reputation first and in order to satisfy our customers.
We have exported to a number of European countries including Belgium, England, Germany, and some Arab countries as well.
Since we offer quality and competitive prices, we have a customer base that has remained loyal for more than a decade.
Also, have suppliers working with them since 2012 with good experience with European specifications for export and are fully familiar with working with us and what we want from the specifications.
In addition to our own farms, we use our suppliers in case of huge quantities. We always provide the best prices in the market while maintaining the quality of course.
---
Specialized in exporting Egyptian Potatoes all over the world with high-quality standards to make you import now.
---
Specifications and details :
| | |
| --- | --- |
| Variety: | Spunta - Egyptian Potatoes |
| Calibre/ Size: | 40-60, 50-70, 60-80, 70-90, 80-100, 90-110 |
| Packing: | PP Bag / Propylene bag |
| Weight:  | 5, 10, 20, 25, 1,250 KG  |
| Capacity: | One Container 40 ft loaded up to 29 Ton |
---
Exports by Country: Potatoes
Below are the 15 countries that exported the highest dollar value worth of unprocessed raw potato shipped during 2021.
Netherlands: US$821.2 million
France: $666.1 million (15.4%)
Germany: $382.5 million (8.9%)
Canada: $292.4 million (6.8%)
United States: $275.9 million (6.4%)
Egypt: $200.2 million (4.6%)
China: $196.4 million (4.5%)
Belgium: $181.5 million (4.2%)
United Kingdom: $143.1 million (3.3%)
Spain: $132.4 million (3.1%)
Pakistan: $112.8 million (2.6%)
Israel: $79.8 million (1.8%)
India: $70.9 million (1.6%)
Belarus: $67.7 million (1.6%)
Denmark: $58.7 million (1.4%)
Source from worldstopexports
More information about from healthline
In addition to starch, potato contains vitamins, minerals, and fiber. They're rich in vitamin C, which is an antioxidant. Potato were a life-saving food source in early times because vitamin C prevented scurvy.
Root vegetables like potato are versatile and a staple food in many households.
They are an underground tuber that grows on the roots of the Solanum tuberosum plant (1Trusted Source).
WhatsApp us now on +201112456632
"Exporteur von Zitrusfrüchten" Ägypten citrus branded carton citrus fruits exports citrus production in egypt egyptian lemon Export egyptian pomegranate Export fruits from Egypt Exporting companies in egypt fresh fruits Fresh vegetables fruit exporteren uit egypte fruit farms in egypt GEO / GEO Exporting / Citrus Grapefruit exporters import citrus from Egypt importer des pommes de terre d'Egypte import from egypt import fruits from Egypt. import orange from egypt lemon exporters orange exporter orange exporters in Egypt orange suppliers in egypt Pomegranate Egypt Export potatoe packing for import principaux exportateurs de pommes de terre en Égypte shipping potatoes from egypt struguri albi importați top exporter in egypt top exporter onion egypt top orange exporters topp appelsineksportører Valencia Orange what fruits grow in egypt сезон винограда в египте экспорт фруктов из Египта استيراد رمان من مصر بصل مصري احمر درجة أولي تصدير البصل الابيض المصري تصدير الفواكه من مصر تصدير فاكهة خضروات مجمده من مصر رابطه منتجي و مصدري البصل و الثوم في مصر मिस्र में आलू की खेती मिस्र में शीर्ष आलू निर्यातक