By GEO / GEO Exporting, GEO Farms/ Grapes Egyptian Supplier/ Egypt seedless grapes, Egyptian Grapes for export, Export fruits from Egypt, flame grapes Egypt, grapes prime seedless imported, grapes by air, grapes carton, grapes exporters Egypt, grapes farms in Egypt, grapes fruit to import.
Egyptian supplier for exporting Grapes
Grapes l Egyptian Supplier
Primes Seedless
Superior Seedless
Thompson Seedless
Red Globe Seeded
Crimson Seedless
Autumn Royal Seedless

Introduction:
GEO FARMS is a grapes brand which is part of GEO Exporting which is one of the largest egyptian grapes supplier fruit in Egypt.

We can provide any quantity of coded grapes.

In addition, our ISO 9001:2015 cert no. 21IQHG48M also ensures quality.

GEO has been working in the FRUIT export business since 2012.

As a company, we are keen to pay attention to quality in order to meet our customers' needs.

Introduction
What makes us the most trusted Grape supplier in Egypt?
1. Huge suppliers base of Egyptian grapes
We have a vast supply base of grapes suppliers in Egypt that can provide fruits products of any quantity and of the highest quality.

GEO FARMS are one of leading suppliers for exporting Grapes.

Egypt is different from the rest of the world because of the high quality of the product on the market and the availability of the product there.
2. Control Bulk order of Egyptian grapes
For large orders of grapes, whether shipped air or sea, we plant a total of 15 acres of grapes, which you can order in any quantity of the following types of grapes:
Below you will find our Egyptian Grapes specifications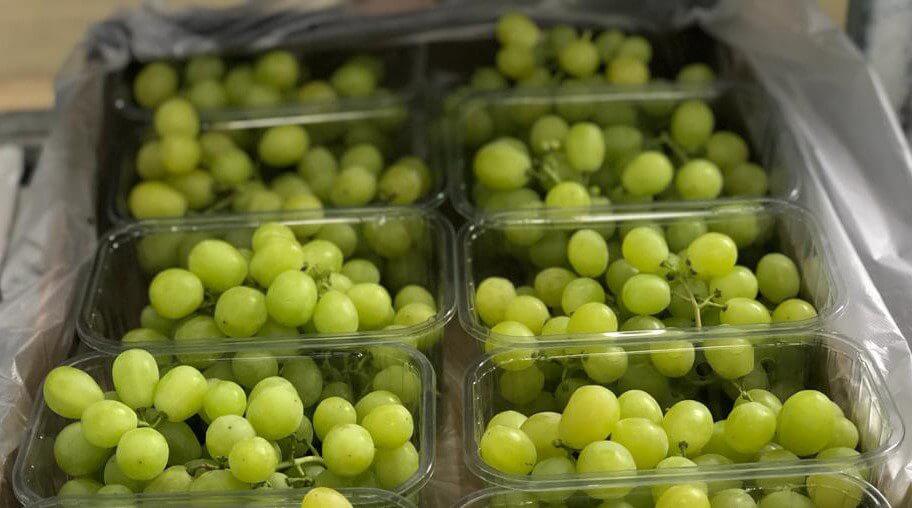 Frosty Green Seedless egyptian grapes, round berries, fairly small to medium long, compact, comes sweeter while passing of middle of May.

Color: White/Green

Brix: +16

Calibration: 16-22 mm

Season: June to August of each year.
(SULTANA) Lady de Coverly, oval-fruited, firm grapes, round berries, sweet, juicy, especially tender skin.

Color: White/Green

Brix: +16

Calibration: 10-20 mm

Season: May to end of June of each year.
Famous for their large berry size and excellent shelf life. Sweet & crunchy, large round red berries and this type of grapes is great for salads.

Color: Blush red

Brix: +16

Calibration: 22-30 mm

Season: July to August of each year.
Generally, these egyptian grapes are a bit sweet, firm, and meaty, and the flavor in this variety of grape is most popular for exports because of their flavor. furthermore those grapes are medium sized, oval-shaped, and seedless.

Color: Blush red

Brix: +16

Calibration: 14-22 mm

Season: From July to september of each year.
Medium Sized clusters of large, sweet-tart, and Crunchy.

Color: Blush red

Brix: +18

Calibration: 16-22 mm

Season: From 15th May to July of each year
The berries of Autumn Royal seedless variety are larger than those from most other grape varieties.

Color: Black

Brix: +16

Season: From August to September of each year.
Packing and Packaging for Egyptian Grapes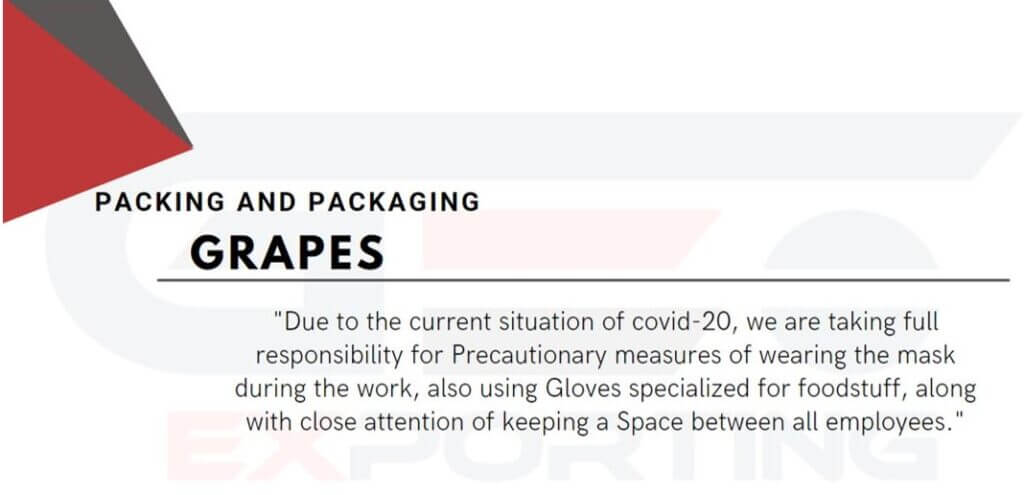 Contact us:
Phone:
Phone: +201112456632 / +201123252720 /+201142913725
General Inquiries Mail:
Sales Team
Management