Egyptian Sweet Potato or sweetpotato (Ipomoea batatas) is a dicotyledonous plant that belongs to the bindweed or morning glory family, Convolvulaceae.
Quality Control - Egyptian Sweet Potato Producer
Introducing Incoming Quality Control (IQC)
A key focus of GEO EXPORTING at this stage is harvesting sweet potatoes (Root vegetables) according to new harvesting methods to minimize scratches on the sweet potato surface. Our team also inspects incoming sweet potatoes to ensure that they meet the specifications of our clients and are the right size.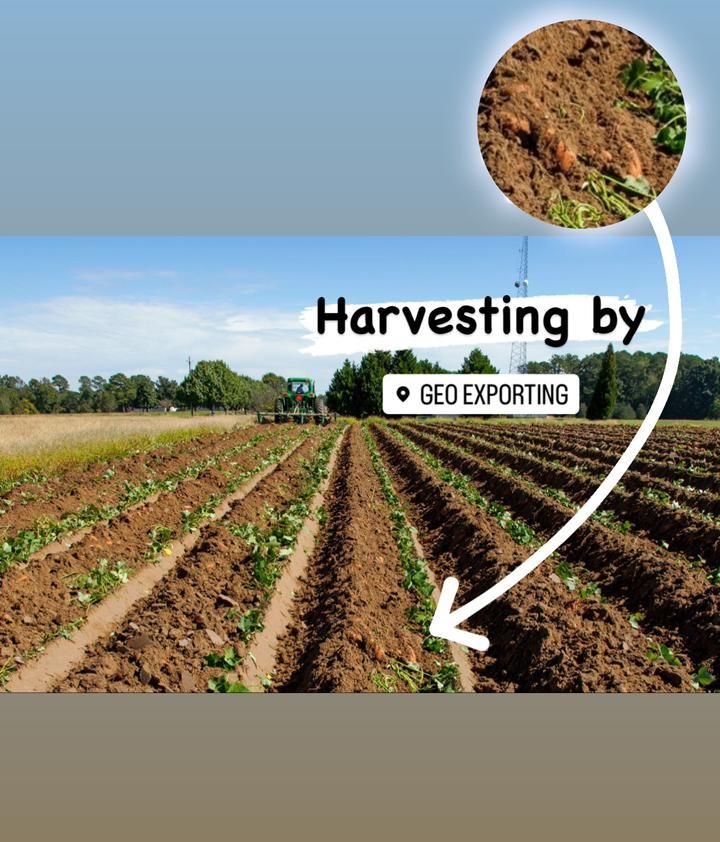 Planting Organic Varieties such as:
Beauregard / Bellevue Patata
ORGANIC EGYPTIAN SWEET POTATO
Sweet potatoes are a large starchy sweet tasting tuberous root vegetable that is gaining increasing popularity as a potato substitute and is also widely used in various culinary cuisines.
Free from Pesticides
Farm Location in Cairo, Egypt
LONG SHELF LIFE OF UP TO 95 DAYS
Before Harvest from our Farm
Supply ability up to 9,500 MT
Introducing Input Process Quality Control (IPQC) Egyptian Sweet Potato
Refers to quality control in the input process of raw materials, production, and packaging.
We do the same with all our vegetables such as Red Onion, Golden onion, Garlic, carrots, and Potatoes.
IPQC for our Organic Sweet Potato emphasizes (2) Cleaning Methods:
Unwashed Potatoes
Washed Potatoes
Unwashed Potatoes
We use Dry Cleaning without curing It is done sometimes for customers who want to do
washing and curing in his country, especially for nearby places transit less than 12 days Expected
permitted damage rate from 10 %.
---
Washed Potatoes
Washed through (cleaning +curing) to save potatoes long a shelf life higher than 60 days through 5 Steps:
Washing our Egyptian Sweet Potato.
Cut the front part and the back part that carries the bacteria and sorting.
4/7 day at Curing room to close any injury or any cut.
After that, we do the sorting process.
Sizing process.
---
Beauregard Cleaning step
Sweet potato Producer
FREE FROM PESTICIDES
From Our Farm to our station to your Hand

""GEO Slogan""
And Finally our Outgoing Quality Assurance / OQA
We aim to export organic Sweet Potatoes without high pesticide levels and in perfect condition to our existing customers and potential as well. and,
Also, we believe that maintaining high Quality is the key to forward business success and to making us one of the top Egyptian Sweet Potato producers.
Bellevue Variety Export to Europe
Egyptian sweet potato Producer
Class 1 - Premium
6KG Open-Top Carton
From Our Farm to our station to your Hand

""GEO Slogan""
---
WhatsApp: +201112456632 I Email: sales@geoexporting.com
Our Latest Posts:
beauregard sweet potato Bellevue Potato cipollotto aziendale citrus branded carton citrus fruits exports citrus production in egypt egyptian lemon egyptian sweet potato import Export egyptian pomegranate Export fruits from Egypt Exporting companies in egypt export potatoes to dubai export potato to europe fresh fruits Fresh vegetables fruit exporteren uit egypte fruit farms in egypt GEO / GEO Exporting / Citrus Grapefruit exporters il miglior esportatore di cipolle in Egitto import citrus from Egypt importer des pommes de terre d'Egypte import from egypt import fruits from Egypt. import orange from egypt import spring onion lemon exporters orange exporter orange exporters in Egypt oransje verdenseksportører Pomegranate Egypt Export premier exportateur d'oignons en Égypte shipping potatoes from egypt Spring Onion exporter top exporter in egypt top onion exporter in egypt top orange exporters topp appelsineksportører Valencia Orange vegetables exporter in egypt экспорт фруктов из Египта تصدير الفواكه من مصر تصدير فاكهة मिस्र में आलू की खेती मिस्र में शीर्ष आलू निर्यातक